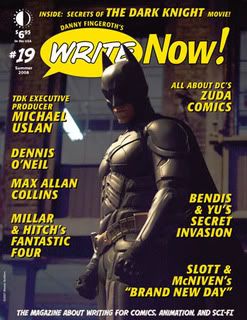 About a month ago Tony and I did a
Black Cherry Bombshells
' interview for Write Up Magazine. It's a TwoMorrow's publication and they've got a whole thing on Zuda Comics and, presumably, web comics in general.
From the solicitation:
WRITE NOW #19 (80 pages, $6.95) is a SPECIAL BATMAN: THE DARK KNIGHT ISSUE featuring: a great photo cover of Christian Bale as The Dark Knight! It features ?Dark Knight and Spirit executive producer Michael Uslan on the writing process for films, Dennis O'Neil on adapting The Dark Knight movie to novel form, Brian Bendis script and Leinil Yu pencils from Marvel's Secret Invasion #1, mystery and comics writer Max Alan Collins discusses his career and upcoming projects, Mark Millar script and Bryan Hitch pencils from their upcoming run on FF, DAN SLOTT script and STEVE McNIVEN pencils from Spider-Man's BRAND NEW DAY, inside info on DC's online Zuda Comics imprint from Ron Perazza, Alex Grecian talks about the making of his Image series Proof!, and more! Edited by Danny Fingeroth.
Kinda cool that we got a Batman cover, too. If I learned anything this year it's not to be afraid of hanging out in Batman's long shadow :)
Look for
Write Now Magazine
where ever comics are sold.
-Johnny Zito