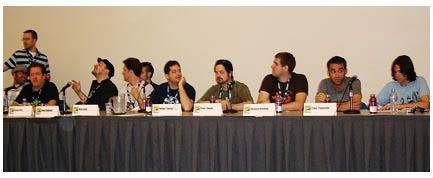 Well they covered the whole Zuda Comics' Panel
Black Cherry Bombshells
just happen to be there, too. See us on the end?
Never thought comic books would take it this far.
Blogist and all around nice guy JK Parkin was very flattering in his article. It's all true; Sheldon drinking, Doan killing Superman and I wouldn't wish a Zuda contest on my worst enemy :)
Read it at
Newsarama
and be sure to drop a line if you were there. We know who you were. You watched it, you can't un-watch it!
-Johnny Zito