San Diego has the most gorgeous weather of any city ever. Tony and I did the convention thing yesterday. Our signing was at 5. Same for today. We be booth #8217. Please come see us and get a Black Cherry Bombshells' pin.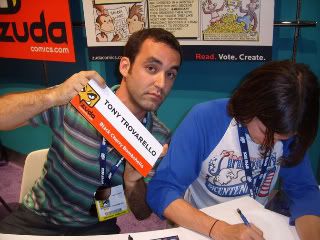 We we're giving them out while we were doing signing and sketches. Well, I sketched while Tony promoted.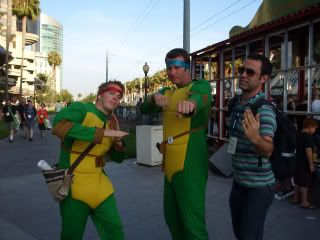 We met some Ninja Turtles outside the convention center.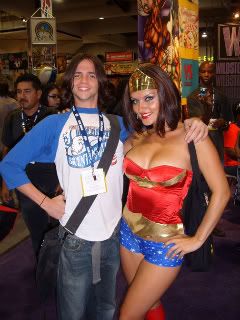 And Wonder Woman inside :)
The whole Zuda Comics' crew went out to dinner and Tony and I finally got to shoot the shit with Jeremy Love from Bayou who turns out is also from Philly like me and Tony. Like me and Tony, he's also been mugged with ninja stars in the city of brotherly love. That's a story only folks from Philly and Feudal Japan can claim.
We ended up drinking at the Hyatt with all the other comic books people AND some folks here on a medical conference. To the two women bumming cigarettes outside: For shame. You're in the medical field. You should know better.
Today we're going to take lil time for the beach and a lot of time for the con. Be back with more pictures tomorrow.
-Johnny Zito