OMG It's ZUDA PANEL DAY!
Check us out 10:30, in Room 4 at the San Diego Convention Center. We're gonna be talking up all kinds of nonsense. Come hang out!
Yesterday was awesome. Saturday at the Con did non disappoint. Tony and I got there early and hung out in DC's 'talent suite' which over looks the convention floor.
It's funny because it faces the Marvel booth. But you can see everyone's costumes real well from up here so it's perfect for people watching.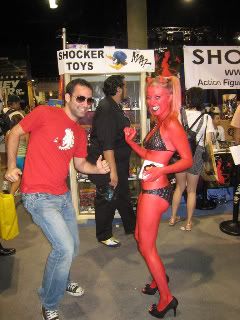 Tony danced with the devil.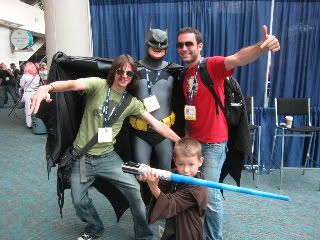 Then we backed up the baddest Jedi in SD against the forces of evil; as Batman laughed with the sick delight that only a deranged man in a rubber mask can ever know.
This is it folks. Last day to get a Black Cherry Bombshells' pin. Check out Tony and I at 1:00 pm today. We be booth #8217.
Peas,
-Johnny Zito