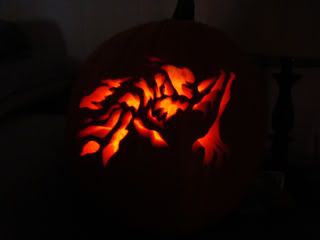 Happy Halloween!
In honor of all our fantastic success with
The Black Cherry Bombshells
this year I carved a zombie pumpkin for the holiday.
As well we had the great fortune to hang out with Jen from
ComicCom.com
and have a chat about the undead and other awesome horror stuff.
Hope everyone is stocked on their Mars Bars, rotten eggs and pillow cases. Have a good time out there.
Click
HERE
to read our interview with ComicCon.com.
Click
HERE
to read the Black Cherry Bombshells.
-Johnny Zito