It's the one year anniversary of
The Black Cherry Bombshells
this month.
I'm going to try and dip into the war chest and see what behind the scenes nonsense we can blog over the course of the month to celebrate.
But we thought a great way to kick off the birthday celebration would be a retrospective of our favorite pictures from the most awesome year that ever was: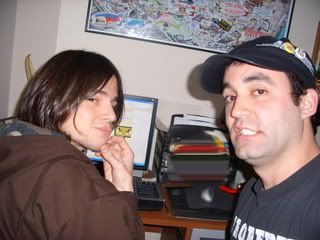 This is the day we submitted to Zuda Comics.
This was the morning the competition ended. We're on our way to our day jobs. We'd come home comic book writers or not.
NY Comic Con two weeks after we won; this is where we got to finally meet the Zuda crew in person.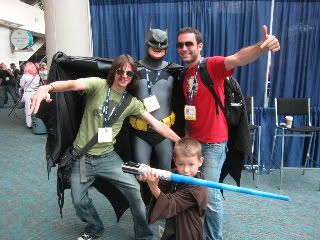 Going to San Diego to promote a comic book is something I've dreamed about (literally) since I was 15.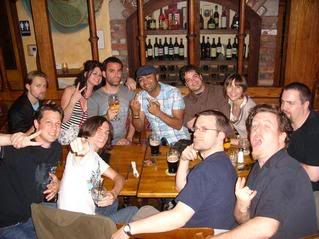 It was even better than I imagined.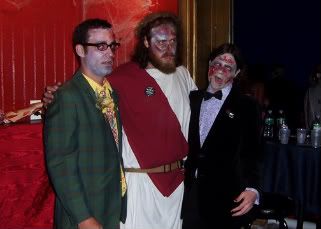 The best part about the comic has been how many awesome people we've had the opportunity to meet.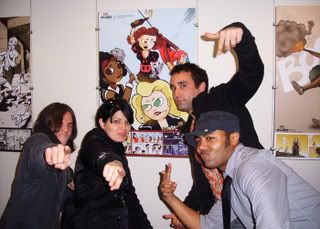 When we visited DC's offices in NY they surprised us with a bit of our art hanging in the hallowed halls of Superman and Mad Magazine. It was very flattering.
Our First Friday signing with Kevin Colden (of Fishtown fame) was a happy accident. I've always fantasized about hosting a gallery. The fact that it was an artsy event at a comic shop was particularly funny.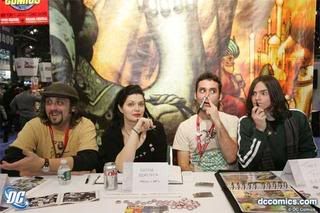 The whole BCB team met for the first time at NY Comic Con this year (which was a few months earlier in '09). Even though we talk everyday it was super cool to hang out, get drinks and laugh with out emoticons.
Thanks everyone who voted for us last year. Thanks everyone who's jumped on board since. Thanks DC Comics for bringing Zuda to the internet. Thanks Dario Argento, the Philly Roller Girls and Las Vegas for being awesome.
Feelin' great in oh-eight. Doin' fine in oh-nine and again in twenty-ten.
Click
HERE
to keep reading The Black Cherry Bombshells.
-Johnny Zito