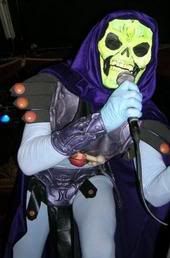 This weekend is Wizard World Philly. More importantly Saturday is the
Skeletor Karaoke After Party
.
Tony and I went last year and it was sort of the best. I know what I'm singing, been practicing for weeks. Losers get gonged off stage. Winner does a duet with the Scourge of Greyskull.
Be there: Trocadero Theatre, 1003 Arch Street, Piladelphia, PA. Starts at 10.
Find us at the Comic Con by the DC Booth or at the Bar to get some
Black Cherry Bombshells'
shwag.
Follow us on Twitter for whatever nonsense is going on:
Twitter.com/JohnnyZito
Twitter.com/TonyTrov
Loosen up them inhibitions and lubricate your throat, we got some singing to do!
-Johnny Zito