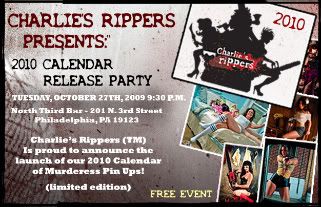 Charlie Ripper's Pin-Ups each tell a gory tale of serial murder. Her creepy and provocative photos are being collected as a calendar for 2010.
The photographs depict 12 of the most notorious killers in history featuring Reggie Bugmuncher of Olde City Sideshow, Stephanie Weaver of the Philly Roller Girls, and Morgan Mae of Burning Angel.
Charlie Ripper
, her models, and producers Tony Trov and Johnny Zito invite you to the release party 10/27/2009 10PM at: North 3rd Restaurant, 801 N 3rd Street, Philadelphia PA 19123.
-Johnny Zito