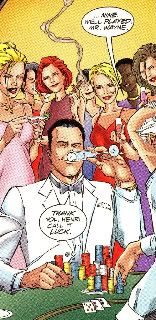 Black Cherry Bombshells
are nominated for a
Harvey Award
for Best Online Work. There's a big dinner and award ceremony with a free meal and open bar.
We're sitting with Sheldon (
Supertron
) David and Steve (
High Moon
) and Bobby and Peter (
Night Owls
) who are also nominees.
To widdle away the hours and make the awards extra fun we came up with THE HARVEY AWARDS DRINKING GAME!
RULES:
Every time a non DC or Zuda comic wins; take a sip.
Every time a DC Comic wins; take a three sips.
Every time a Zuda Comic wins; take a shot.
Every time a winner thanks Stan Lee, Jack Kirby or Will Eisner; take five sips.
Every time Harvey Award Host (and super talented cartoonist/Harvey Nominee) Scott Kurtz plugs his book; pound what's left of your drink.
If you aren't going to the Harvey's, play along at home by following Tony and I on Twitter (
twitter.com/JohnnyZito
&
twitter.com/tonytrov
) where we'll obnoxiously update through out the night. Um, hash tags? #HarveyAwards and #DrinkingGames
Saturday, October 10th. I have no idea what time. Let's say 8. That feels right.
I expect we'll make up more rules as we go.
-Johnny Zito