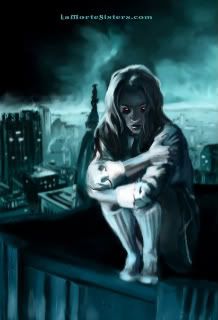 It's not a hilarious Abbott and Costello set up. The Rhazzah, famous Moon Girl artist, has graced Tony and I with a LaMorte Sisters pin up of Maddie. Click the image for a closer look at our vampy new girl.
I love the Philly skyline as he's drawn it. He points the camera East toward Society Hill and Old City where the buildings are older; French Gothic through Art Deco.
Click
HERE
to read LaMorte Sisters.
Click
HERE
to read Moon Girl.
-Johnny Zito